Play ball!
If you are a baseball fan, I am sure you know that Major League Baseball's Grapefruit League plays all around Florida. Floridians and our visitors have access to major league teams in action at the best Spring Training venues in the country. However, the majority of the Spring Training stadiums are on along the Gulfcoast.  In fact, most of the ballparks are only a 30 – 90 minute drive from Sarasota. Whether you are a native Sarasotian or just coming to town for vacation, we hope this guide inspires you to experience the nostalgia of an old fashion ballgame game. Get out have a fantastic day out at one or more of the local ballparks. Check out our Guide to MLB Spring Training in Florida and plan a visit today! 
1. Sarasota, FL

Team: Baltimore Orioles |Ed Smith Stadium |  (941) 954-4101
The Baltimore Orioles are proud to call Ed Smith Stadium in Sarasota, FL home during Major League Baseball Spring Training. Here in Sarasota, the Orioles have an intense fan base which helps to keep the stands full to the brim. This park boasts a one-of-a-kind entrance, that allows fans a view of home plate as soon as they enter. Seating capacity at Ed Smith Stadium is just over 7,400 and the indoor concourse provides fans relief from the sometimes brutal Florida sun. Spring Training practices at the Ed Smith Stadium are free and open to the public starting in mid-February. And Spring Training games begin in March. 

THINGS TO DO: The stadium is close to several Sarasota hotspots. Spend the day at St. Armand Circle – window shop, grab an ice cream, or book a table at one of the legendary restaurants.  Of course, you can't forget our beaches!  Lido Beach is a destination you shouldn't miss, as well as Siesta Key – the #1 Beach in America!
2. Bradenton, FL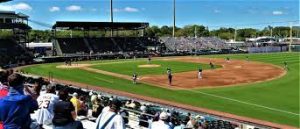 Team: Pittsburgh Pirates | LECOM Park | (941) 747-3031
You can see the Pittsburgh Pirates in action this spring at LECOM Park in Bradenton, Florida. LECOM Park was built in 1923 and is the second-oldest professional ballpark in Florida behind Jackie Robinson Park in Daytona Beach. In the 1990s, the ballpark was renovated and has a a seating capacity of over 6,600. Groups of 25 or more can enjoy an all-you-can-eat, pregame picnic in full view of the field at the Boardwalk Barbeque Area, located in the right field area along the boardwalk.
If you arent familiar with Bradenton, it's nestled between the tropical blue waters of the Gulf of Mexico to the west and Tampa Bay to the North.  Bradenton is bisected by the Manatee River, it lies on the river's south shore with the cities of Palmetto and Ellenton to the north. Best of all, it's minutes from the beautiful Anna Maria Island!
THINGS TO DO: Bradenton is a great area to explore historic attractions, enjoy watersports, fishing adventures or relax on the beach. The stadium is in close proximity to the Village of the Arts, a community of galleries, artist studios, and shops. Families love visiting The Bishop Museum of Science and Nature where they can learn all about Florida's past. And certainly, be sure to head west until you reach the Gulf of Mexico and all the beaches along Anna Maria Island! 
3. North Port, FL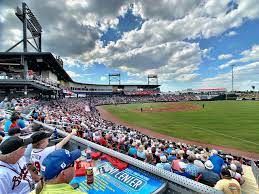 Team: Atlanta Braves | CoolToday Park | 
North Port, FL  is excited to welcome CoolToday Park! It is the home of The Atlanta Braves Spring Training. CoolToday Park is located amongst the 15,500 acres that comprise Wellen Park, formally, West Villages. Wellen Park located in Southern Sarasota County between the City of Venice and the City of North Port. The community is being developed by a partnership that includes Mattamy Homes (MattamyHomes.com), the largest privately-owned homebuilder in North America, and Vanguard Land (VanguardLand.com), one of the region's premier and well-respected land developers. Currently, Wellen Park Ranks #3 Fastest Selling Community in the U.S. Be sure to watch the Wellen Park video for more info. 
THINGS TO DO: North Port, is the fastest-growing city in Sarasota County and if you love the outdoors, then there's so much for you to enjoy here. Warm Mineral Springs is one of the city's most popular attractions. The spring maintains a constant 87-degree temperature and is rumored to have one of the highest mineral contents of any natural spring in the United States. Venice is just a short drive from North Port and was named one of the 10 Happiest Seaside Towns by Coastal Living. It is known as the Shark's Tooth Capital of the World!  At low tide and particularly after a storm, the receding Gulf waters of Caspersen Beach, leave behind shells, rocks, and an astounding number of fossilized sharks' teeth.
4. Tampa, FL

Team: New York Yankees | George M. Steinbrenner Field | (813) 875-7753
George M. Steinbrenner Field in Tampa, FL  is home to the New York Yankees Spring Training. This park is the largest stadium in the Grapefruit League, with a seating capacity of just over 11,000  and it has a variety of seating options from covered seating to cabanas.  The team has been in the park for a quarter-century, and they work hard to sustain a true Yankee Stadium feel! 
THINGS TO DO: Tampa Bay – our neighbor to the north – is the second-largest metro area in Florida. And it has a plethora of attractions and eateries to enjoy. Are you a foodie? Be sure to check out Armature Works &  Sparkman Wharf – both are outdoor foodie havens. Head downtown to the Riverwalk or Amalie Arena, home of the Tampa Bay Lightning, and the Florida Aquarium. Or check out the historic district of Ybor City for shopping, dining, and nightlife options.
5. Clearwater 

Team: Philadelphia Phillies | BayCare Ballpark | 727-467-4457
BayCare Ballpark is the Phillies' Clearwater Spring Training home. Built in 2004, it is one of the best ballparks for Florida Spring Training in the Grapefruit League. The ballpark is designed with a classic Floridian architectural style and features a 360-degree main concourse, open to the playing field. There's not a bad seat in the house at this ballpark!  In addition, it offers picnic areas for groups, party suites, a children's play area, and an expansive team store. Philadelphians will be pleased to know that being home to Phillies fans –  you can't find a better cheesesteak!
THINGS TO DO: After a game, head over to Clearwater Beach's Pier 60 on the Gulf of Mexico for one of the best sunset celebrations in Florida. Or see Winter the dolphin's legacy continue at  Clearwater Marine Aquarium, where you can visit rescued dolphins, sea turtles, and more! For true Phillies Phanatic – check out the traditional diner spot, Lenny's – right down the road from the ballpark!
6. Port Charlotte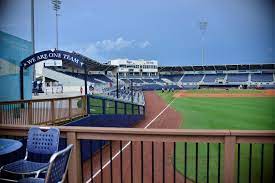 Team: Tampa Bay Rays |Charlotte Sports Park| 888-FAN-RAYS
The Tampa Bay Rays train at Charlotte Sports Park in Port Charlotte, FL in the spring; just 90 minutes south of their home field. Charlotte Sports Park is a state-of-the-art facility with a baseball boardwalk, that spans the entire outfield. In addition, this park has children's play area, upgraded concession stands, and a first-class team store.  This park was the recipient of the USA Today 2014 Readers' Choice Award for Best Spring Training Facility.  
THINGS TO DO: The Port Charlotte area is a dream come true for outdoorsy, nature-lovers!  The Myakka River State Park is a top spot for cyclists and bird watchers. Or take a short 30 minuter drive to Englewood and relax along the breezy, tranquil coast. This town's vibe is a throwback to Old Florida's idyllic charm. Explore various antique shops and tastes from array of waterfront restaurants. Sunseekers that want to avoid crowds – check out Manasota Key. It is home to four beaches that offer miles of unspoiled views of the Gulf of Mexico. 
7. Dunedin

Team: Toronto Blue Jays | TD Ballpark | 
TD Ballpark in Dunedin, FL has been the spring home of the Blue Jays since their first season in 1977. This stadium was recently renovated and features a capacity of 8,500 with standing room and "party deck" viewing.  In addition, it has an indoor, air-conditioned "Eddie's" lounge area. Other upgrades to the park include a boardwalk that wraps around the entire outfield, a new LED scoreboard, a first-rate team shop, renovated bathrooms, concessions, and suites. Plus, a tiki bar with drink rails that line the walkway for fans to stop and never miss a play. 
THINGS TO DO: Dunedin is located just west of Tampa, along the Gulfcoast.  This city consistently ranks among the most walkable cities in the United States. In fact, Main Street is a short walk from TD Ballpark. And it is linked to the Pinellas Trail, a multi-use trail that runs the length of Pinellas County. While in town, be sure to visit nearby Honeymoon Island State Park and Caladesi Island State Park.  These two world-renowned beaches are known for their unspoiled, natural beauty and often rank on various 'best beaches' lists. 
8. Fort Myers

Team: Boston Red Sox | JetBlue Park | (617)-482-4SOX
Team: Minnesota Twins | Hammond Stadium at Lee County Sports Complex | 800-33-TWINS
Ft Myers hosts 2 teams! The Minnesota Twins play in Hammond Stadium at Lee County Sports Complex, and the Boston Red Sox play at JetBlue Park. 
JetBlue Park is deserving of its nickname, Fenway South. This park has the exact same dimensions as Boston's famed Fenway Park. The most notable detail is in left field – a replica of the Green Monster!  Precisely like the original, down to the manual scoreboard – like the good ole days!  Sox's fans will feel right at home with a menu featuring: Kayem Fenway Franks, lobster rolls, and Sam Adams beer.
Hammond Stadium is only minutes from JetBlue Park, however, it offers a totally different vibe. Its fancy exterior features a waterfall and was inspired by Churchill Downs. This ballpark has a covered picnic area, beer garden, and a party deck on the right field. Upper Midwesterns won't is disappointed in the bounty of familiar food options, including, grilled meats, bratwurst, and cheese curds. 
THINGS TO DO: Fort Myers is surrounded by things to do!  After a game, take in Six Mile Cypress Slough Preserve. This wetland ecosystem has boardwalk trails that offer an immersive experience.  Visitors can take in the abundance of the land,  amongst a myriad of animals like otters, alligators, turtles, wading birds, and more. It is a wonderful way to walk through the beauty of natural Florida without wading through the swamps. Are you a beach lover? Dig your toes into the sand on Fort Myers Beach on Estero Island. Or better yet, go shelling on Sanibel Island or catch a spectacular Gulfcoast sunset on Captiva. The unmatched beauty of these two coastal destinations is a MUST SEE! 
*The next few ballparks are a bit further from Sarasota, but only a quick roadtrip away! 
9. Lakeland, FL

Team:  Detroit Tigers | Publix Field at Joker Stadium (Tiger Town) |  (863) 686-8075
Publix Field at Joker Stadium (Tiger Town) in Lakeland, FL is the Spring Training home of the Detroit Tigers. Located 50 minutes southwest of Orlando, "Tiger Town"  has held Spring Training  for the team for over 70 years. This is the longest-standing relationship between an MLB team and its spring training city. If you are even in town visiting one of Orlando's theme parks in the spring, make time to catch a ballgame.
10. Jupiter, FL

Teams: St. Louis Cardinals and Miami Marlins | Rodger Dean Stadium | 561-775-1818
Rodger Dean Stadium is in Jupiter, FL, and is the Spring Training home to both the Cardinals and the Marlins. The stadium seats 8,030, including box suites, and a press box, professional scoreboard and JumboTron enhance the experience. This ballpark is by far the busiest in Florida and one of the busiest in the United States.
11. Port St Lucie, FL

Team: New York Mets | Clover Park | 
The Mets hold their Spring Training at Clover Park in Port Lucie, FL. This stadium was built in 1988 and is reminiscent of Shea Stadium. Over the years, it has undergone two renovations. In 2020, the improvements included new concessions, clubhouse, and additional outfield areas for spectators. Plus an added bonus for Mets fans – they serve Nathan's Famous hot dogs! 
12. West Palm Beach, FL 

Teams: Houston Astros & Washington Nationals | The Ballpark of the Palm Beaches
The Ballpark of the Palm Beaches is the Spring Training home to both the Astros and Nationals. The 160-acre complex features a fan-friendly 7,700 capacity stadium. Fans will find plenty of shade, a 360-degree concourse, the Enterprise Lawn, suites, and party decks to enjoy an all-encompassing Spring Training experience. 

Spring Training games are more intimate. Get up close and experience the nostalgia of an old fashion ballgame game – a time when players are accessible. Hear the roar of the crowd, have a beer,  peanuts, and maybe the chance at catching a foul ball!  And dont forget the added bonus of Sarasota, FL in the spring. Hopefully, our Guide to Florida's MLB Spring Training was informative! If you have any questions about Sarasota or the Gulfcoast area – Always feel free to reach out! 
Florida's Grapefruit League Consist of 15 MLB teams playing in 13 Florida cities:
Atlanta Braves, North Port

Baltimore Orioles, Sarasota

Boston Red Sox, Fort Myers

Detroit Tigers, Lakeland

Miami Marlins, Jupiter

St. Louis Cardinals, Jupiter

Houston Astros, West Palm Beach

Minnesota Twins, Fort Myers

New York Mets, Port St. Lucie

New York Yankees, Tampa

Philadelphia Phillies, Clearwater

Pittsburgh Pirates, Bradenton

Tampa Bay Rays, Port Charlotte

Toronto Blue Jays, Dunedin

Washington Nationals, West Palm Beach
Related Content: