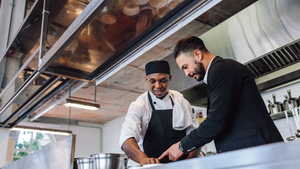 Are you a foodie looking for new and exciting dining experiences in Sarasota and Lakewood Ranch? Look no further than these seven new restaurants that are either already open or coming soon! Discover Sarasota & Lakewood Ranch's newest and most exciting restaurants. From Mexican cuisine to seafood, there's something for everyone in this culinary roundup.
Foodies! Discover the Newest Restaurants of Sarasota and Lakewood Ranch.  Sarasota's culinary scene has been on fire over the past year, with many new and exciting offerings in the region. From tiki-inspired bars to modern Middle Eastern fare, there's something for everyone.
Bar Hana – 1289 N. Palm Ave., Sarasota, (941) 536-9717 (opened April 2023)
Brought to you by the owners of Kojo, located right next door, Bar Hana is a tiki-inspired bar and restaurant that offers juicy cocktails paired with pan-Asian bites with a Polynesian influence. The interior has a hip feel, with a sleek, black-tiled bar anchoring the space, contrasted by natural tones from rattan-lined walls.
Rocco's Tacos & Tequila Bar – 243 N. Cattleman Road, Sarasota, (941) 477-8226 (opened March 2023)
Rocco's Tacos & Tequila Bar situated in University Town Center is famous for its classic dishes such as tacos, burritos, enchiladas, and quesadillas, which are well-liked by customers. Don't forget to try their tacos; they are made using fresh corn tortillas that even the most critical reviewers will find impressive. Moreover, the bar offers over 300 types of tequila, ensuring that you will find the perfect cocktail to kick off your night.
Malmosto – 2085 Siesta Drive, #3, Sarasota, (941) 706-1460 (opened Feb 2023)
Malmosto is a great place to enjoy both exceptional wine and delicious food. They have a wine shop with a wide variety of options you can take home, but if you leave too early, you'll miss out on Andrea Bozzolo's extraordinary cuisine, cooked in an imported oven. Although pizza and wine are a perfect combination, you should also try their short ribs and the various types of salumi.
Turmeric – 1001 Cocoanut Ave., Sarasota, (941) 212-2622 (opened October 2022)
Turmeric is a new Indian restaurant located in the old Starlite Room space at the corner of 10th Street and Cocoanut Avenue in Sarasota. The restaurant offers a revitalized Indian food scene. The dining room is filled with warm aromatic spices like cinnamon, clove, and cardamom that can be smelled as dishes are served.
COMING SOON:
Owen's Fish Camp Lakewood Ranch: A Seafood Lover's Delight
Owen's Fish Camp is a popular seafood restaurant located in downtown Sarasota. And now, they have opened a new location in Lakewood Ranch! The menu features fresh seafood, including oysters, shrimp, and clams, as well as hearty sides like hush puppies and grits. The restaurant also offers a selection of beers and wines to complement your meal.
Agave Bandido: A Mexican Food Lover's Paradise
Agave Bandido, a Mexican-inspired restaurant and tequileria, has signed with Lakewood Ranch Commercial to occupy a 4,000-square-foot restaurant space at Waterside Place of Lakewood Ranch. Agave Bandido is expected to open in the 2nd quarter of 2023.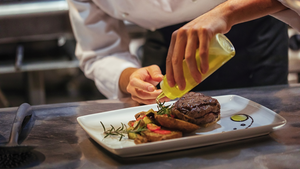 If you're in Sarasota, whether you're a resident or a visitor, you can try out some new restaurants that offer a variety of dining experiences. Plan your next night out and visit one of these new eateries. And if you're looking to move to the area, you can check out the latest Sarasota real estate listings on our website to find your dream home near these amazing dining spots!
Related Videos: