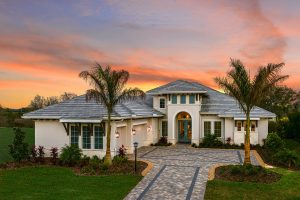 Did you know that Lakewood Ranch is at the heart of a national movement for a multi-generational living?
What is Multigenerational Living?
A multigenerational home is a house that contains two or more generations of a family living under one roof. It may be as simple as adult children living with their parents or as complicated as multiple generations of parents, grandparents, and great-great-grandparents sharing the same house. Here are some pointers to make it function:
CREATE A SAFE HAVEN
Create space for loved ones to age in place. Unquestionably, set aside one floor or wing (without stairs) for older folks. In addition, ensure that hallways and doors have plenty of width.
OPTIMIZE YOUR HOME
A multigenerational home can get cramped. Nevertheless, designate specific areas for each family member and ensure everyone has their own space. Furthermore, consider building separate entrances and bathrooms for each suite. Similarly, adding a living room and/or kitchenette in that designated space will provide more privacy to the overall layout of your home.
FLEX-SPACE
In addition to the rest of the home's common areas, flex or bonus rooms can offer a limitless expanse of possibility. Moreover, these rooms may be used for workouts and/or office space.
STAR FARMS AT LAKEWOOD RANCH
Star Farms at Lakewood Ranch is one of the newest developments in the area, and it's quickly becoming a popular choice. Custom homebuilders, A.R. Homes, Lee Wetherington Homes, and John Cannon Homes are all featured in the development, and each builder offers unique multigenerational designs that are perfect for families.
Furthermore, this 700-acre gated community is intended to have 1,500 residences in a mix of homes, villas, and townhomes.  Also, residents of Star Farms have access to a fitness center, golf courses, swimming pools, and more. Importantly, the development is close to shopping, dining, and entertainment venues.
Learn more here: STAR FARMS | Lakewood Ranch
Finally, If you're searching for a new place to call home and want to learn more about the benefits of Lakewood Ranch Multiple Generational Living, contact Lisa McBride today! As an expert in Sarasota Real Estate, Lisa can guide you through the process of buying or selling a home and answer any questions you may have along the way.