Have you been thinking about visiting or moving to Anna Maria Island, Florida?  Surely, you will want to know all The Best Things To Do On Anna Maria Island.  Therefore, watch my video to learn about the MOST sought-after destinations, restaurants, and adventures that this beautiful island has to offer. 
Located only 22 miles from Sarasota, Anna Maria Island is a seven miles long, barrier island. It is bordered by Tampa Bay to the north and Longboat Key to the south. The mainland city of Bradenton is to the east, and, of course, the gorgeous Gulf of Mexico is to the west. There are three communities on Anna Maria Island – Bradenton Beach, Holmes Beach, and at the northern tip, the municipality of Anna Maria Island. Indeed, it's all lovely. However, the island gets a tad more charming in the northern section for me.
Climate
Anna Maria is located on the aptly named "Suncoast" which boasts nearly 250 days of sunshine a year with a sub-tropical climate. On the other hand, our winters are mild. Occasionally, we have short cool spells mixed in. Thus, causing the locals to pull out their hoodies when the temperatures start to dip. 
Old Florida Charm
This island is special. It feels like you are on a Caribbean vacation while on Anna Maria Island.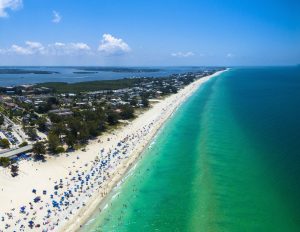 The Island is a low-key place. It is such a delight to find that places like this are still around. It joins a limited number of beach towns that are throwbacks to another era. The feel is very natural and there are no signs that paradise has been lost. You will find very few chain restaurants or major retailers. And building height restrictions are strictly enforced. The only high-rise buildings on Anna Maria Island are Martinique North and Martinique South. These beachfront condos were constructed in 1973 and are grandfathered in. Other than those 2 buildings you won't find high-rise buildings on Anna Maria Island. Certainly, that is part of the charm of this old Florida island.
Parking
Anna Maria Island does lack one thing that we are all searching for: PARKING! But the lack of parking is probably one of the many reasons for the Island's character and charm. The three public beaches offer free parking, but parking lots fill up quickly; especially on the weekend. On the other hand, there is some street parking, but never enough for the demand. Therefore, my best advice for finding parking on Anna Maria Island: Get there early! 
Visitors are encouraged to park their cars and use the Anna Maria Island Trolley. This is a great way to get around. You are free to hop off and on as you please. The trolley runs from the Anna Maria City Pier on the north to Coquina Beach on the south and there are several stops all over the island. You can catch the trolley every 20 minutes, from 6 a.m. to 10:30 p.m.  By the way, did I mention it's free to ride?
Let's start with the obvious – the BEACHES! Surley, one can't go wrong with Gulf-front beaches! These beaches are about as outstanding as you can find in Florida. The powder-soft, sugar sand is blindingly white and the water is crystal clear and aquamarine.  You may be lucky enough to find a sand dollar or pretty shells washed up along the shoreline or possibly spot stingrays, manatees, or dolphins at any of these beaches. There are 6 very special beaches on Anna Maria Island:
Coquina Beach starts at the Southern end of the city of Bradenton Beach.  It is the longest stretch of beach on the southern end of Anna Maria Island on the Gulf of Mexico. Coquina is a fantastic spot to spend the day with family and friends with its relaxing atmosphere, calm waters, and plenty of room to spread out and enjoy the day. The flat beach is lined with sand dunes where waving grasses and sea oats add to the natural beauty of the beach. Amenities include plentiful free parking, picnic tables, grills, restrooms, showers as well as a playground for the kids. The beach is lined with a paved walking/bike path, and there are several volleyball courts.  Lifeguards are on duty at Coquina Beach, making it a safe place to swim, snorkel and discover seashells and sand dollars. 
Local Tip: From November to July, Coquina Beach hosts an Outdoor Market on Sundays. Admission is free and convenient with the free trolley stop right at the entrance.
Holmes Beach is located in the middle of the island, serving the local residents and visitors staying at the vacation rentals and condos of the city. There is public access on almost every street in Holmes Beach. Therefore, it is easy to find your way to the waters of the Gulf of Mexico. Holmes Beach has been coined the Best Beach for Surfing on Anna Maria Island. However, there are no lifeguard stations on this beach. 
Manatee Beach is located in the heart of Holmes Beach. Here you will find the restaurant called AMI Beach Cafe, which is famous for its 'All You Can Eat Pancake Breakfasts'. There is public parking, a gift shop, beach rentals, picnic tables, a playground, and more. It's best known for the abundance of sports activities and is a favorite spot for local teens. This is the busiest beach on the island of Anna Maria. Shelling is great on Manatee Beach. Head South, at low tide or after a storm to find coquinas, lightning whelks, angel wings, clams, cockles, olives, conch, and more. 
Bayfront Park is located on the Northern tip of the island, in between Anna Maria City Pier and the Rod n Reel Pier. The sandy beach is not as pristine as the Gulf side but does allow for nice protection from the Gulf winds during the winter months.  The views are expansive – you can take in the magnificent Sunshine Skyway Bridge & Egmont Key. There are plenty of spaces for families to gather, picnic, explore the playground, and more. 
Anna Maria Beach is located at the northern tip of the island. This is my most favorite beach, it is also the most remote and tranquil beach. Public parking is scarce here as it is mostly a residential area. The world-famous 'Sandbar Restaurant'  is located here too. It has tables right on the beach with the best views. 
Bean Point is my favorite spot on Anna Maria Island. It was named after the first settler of Anna Maria Island, George Emerson Bean. It is a little tricky to get to Bean Point, but while walking down the sandy path, you can feel that you are going to be in for a real treat. The path is lined with foliage and tropical trees. You feel like you're in the jungle. All the while, you can hear the sounds of the Gulf of Mexico calling. Once you arrive on Bean Point, it opens up to a breathtaking, expansive view. It is here where the waters of  Tampa Bay and the waters of the Gulf of Mexico collide.  Arguably, it is the best place on the island to view the sunset.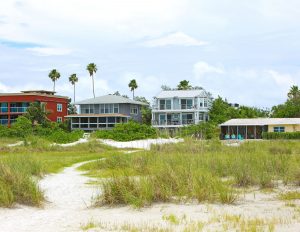 There are also so many things to do beyond the beaches. Anna Maria has great eateries too!
You could start your day with breakfast at Ginny's & Jane E's Bakery Café and Island Coastal Store located conveniently on Gulf Drive, just steps to the beach. This spot really delivers old Florida charm – plus the food, decor, and the uncomplicated lifestyle of Anna Maria Island. You have to try their famous Creme Brulee French Toast or their Sticky Buns. You won't be disappointed!
If you're not in the mood for a sit-down breakfast, stop by The Donut Experiment. Locals and tourists alike love this sweet spot. Cake-style donuts are made fresh to order and are customized with an assortment of flavors and toppings.
Perhaps you just want a cocktail. If you've never had a drink from The Doctor's Office, you are missing out! No silly, it's not an actual doctor's office but a craft cocktail bar here in Holmes Beach that's called the "Doctor's Office". This place is awesome! And the cocktails are amazing! For more than 50 years, this space was the island doctor's office. Now though you won't find a medical doctor on duty, just some fantastic local bartenders. 
Anna Maria Island has a number of piers and they're all deserving of a walk!
This pier was first used to drop off-island "day-trippers" coming by steamboat from St. Petersburg and the Mainland. Now the city pier stands as a reminder of the past as today's visitors still take in the view while enjoying sunny weather. The true old Florida feeling comes alive when enjoying this site. You'll love strolling along the old wooden pier looking at the names on each plank. At the end of the pier, you'll find a restaurant and gift shop. Grab an ice cream cone and relax, or bring your fishing pole to catch your own dinner. People of all ages love watching the wildlife and seeing the grand Sunshine Skyway Bridge in the distance.
This tourist attraction is a former bridge that at one point was the only means of access to the island! A recent restoration project has created a walkable and exciting community loaded with attractions including locally famous restaurants, shopping destinations, farmers markets, and community events. 
Located on the north end of Anna Maria Island, Pine Avenue's main street runs from The Gulf of Mexico to the Historic Bridge St Pier. This shopping village does not have any cheesy souvenir shops or big-name outlets. Here you will only find one-of-a-kind shops and boutiques, which really contribute to the "Old Florida"  feel of the island. Some of the most popular souvenir shops include the Three Island Monkeys, which features local prints and paintings by local artists, and the White Egret and Egrets Nest with home furnishings and interior designs, home accents and gifts, and an island boutique. For clothing, check out Pink and Navy or AMI Outfitters Coastal Gear & Apparel. 
Enter the Village from Pine Ave and you'll immediately see one of the historic buildings on the site that are over 100 years old. Stroll through the quaint village and you'll find an art gallery, gift shops, a general store, an outfitters store selling outdoor equipment, and a grocery store.
Fun on the Water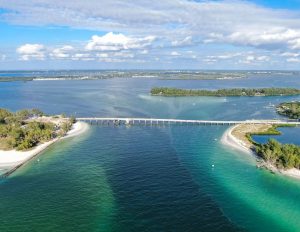 If water activities are more to your liking, you can find kayaks, paddleboards, jet skis, or boats to enjoy your time on the water. Thus, many of the businesses that offer water adventures will also do private tours. Make time to check out a dolphin-spotting tour or go on a sunset cruise. Try a fun afternoon paddling a dragon boat, or for the more adventurous, parasailing is always an option.  Fishing is abundant in our area and there are many fishing charters for you to select from, both nearshore and offshore. And don't forget that many of our restaurants will prepare your catch.  However, make sure to call ahead to find out before you show up with your dinner. Indeed, there are endless ways to stay active on the water and soak up the sun!
Catch a Sunset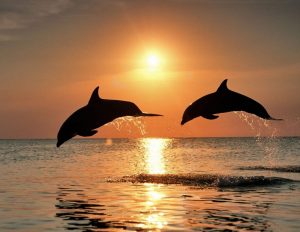 Anna Maria sunsets are glorious. Find out what time sunset is and be on the beach on the east side of the island about thirty minutes ahead of time, even better if it's Bean Point. The Kokonut Hut is also a perfect spot for catching the sunset while you sip on a beachy cocktail.
In conclusion, if you would like to learn more about other Sarasota area beaches– watch my video below or check out these:  Lido Key and Nokomis Beach.  Did I miss something that you think should be mentioned about Anna Maria Island? Please let me know in the comments if I have forgotten something.