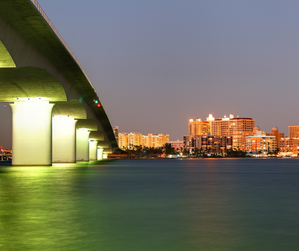 Have you visited SRQ Airport lately? You probably noticed how busy it has become. Last month, Sarasota Bradenton International Airport Recorded the busiest month ever – with 514,889 passengers passing through. This is great news for Sarasota's economy and real estate market.
Passenger Traffic Growth
Over the past year, more than four million passengers traveled through SRQ, marking a 10% increase compared to the previous year. The first three months of 2023 saw an 18.5% increase in passenger traffic compared to the same period in 2022. Sarasota Bradenton International Airport is expanding to meet the growing demand with a terminal expansion project.
Terminal Expansion
SRQ held a groundbreaking ceremony last month to begin the terminal expansion project. The new 73,000-square-foot terminal will connect to the east end of the ticketing wing and include a four-lane security checkpoint and five boarding hold rooms with 970 seats. The terminal will offer passengers essential services, such as a new bar, café, restaurant, and marketplace. Pre- and post-security areas will also have restrooms, nursing rooms, and pet relief areas.
Funding
The $73 million project will be paid for with federal, state, and airport authority funds. This investment demonstrates a commitment to the Sarasota community's growth and development. With this expansion, Sarasota Bradenton International Airport will enhance its services and continue to drive Sarasota's growth.
Conclusion
The growth of Sarasota Bradenton International Airport is a positive indicator of Sarasota's prosperity.  Moreover, these exciting developments reinforce Sarasota's position as a lucrative and high-performing real estate market.  The expansion of the airport will undoubtedly increase the demand for real estate in the area.
If you're interested in investing in Sarasota real estate, now is the time to act. Contact Sarasota Neighborhood Experts today to learn more about the best investment opportunities in the area. Don't miss out on this chance to capitalize on Sarasota's growth and invest in your future today.