Thanksgiving time is here!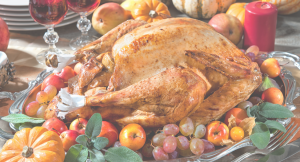 It's the season of cozy fires, wool sweaters, and hot cider…or is it?
In contrast, here in sunny Florida, Thanksgiving looks quite different from the rest of the country. Even though it's November, we're still basking in the sunlight and hanging out by the pool. The autumn season doesn't exist here."
Even though we don't have traditional fall weather, that doesn't stop us from celebrating Thanksgiving in Florida! We have our own unique way of celebrating the holiday that makes it extra special. From palm trees instead of falling leaves to iced tea instead of hot tea, we know how to do Thanksgiving right! Here are 5 WAYS THANKSGIVING IN FLORIDA IS DIFFERENT
1.  Feast Al Fresco
 You'll be able to enjoy your Thanksgiving feast outdoors in the warm Florida weather! The traditional American image of Thanksgiving shows a family gathered around a table inside a formal dining room, with blowing snow visible through the curtains and a fire crackling in the fireplace. However, here in Florida, it's more likely that Thanksgiving dinner will take place outside. The warmer temperatures let you relax and enjoy the fresh air rather than being confined indoors for hours with all your relatives. For an authentic Florida experience, go al fresco this holiday season!
2. Deep Fried Turkey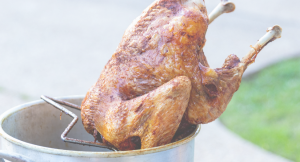 If you live in a warm state like Florida, the last thing you want to do is spend hours cooking a turkey inside your house when it's already hot outside. A great solution for this problem is deep frying the turkey in your backyard. Not only will it stay cooler this way, but the taste will be better too! Having Thanksgiving outdoors under a blue sky sounds delightful, especially if you add football and friends into the mix. And even though it might not sound classy, fried turkeys are definitely delicious!
Bonus: Your idea of a traditional Florida Thanksgiving feast could include items like conch fritters and key lime pie.
3.  Refreshing, Chilled Beverage
The typical Thanksgiving beverage rotation usually includes a rich red wine, hot apple cider, or even creamy eggnog. But down in Florida, we like to keep our drinks cool and refreshing while enjoying the ocean breeze. Coconut water, sangria, and margaritas are some of the best options for sipping on a warm November afternoon in the Sunshine State.
4.  After Your Feast Relax at the Beach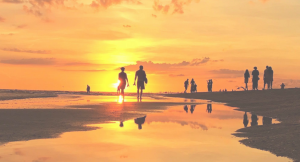 After consuming a large Thanksgiving feast, many people would watch football; however, in Florida, you could lay on the beach and let the food coma take over. Just remember to wear sunscreen! And once you're well rested and hungry again, pumpkin pie with s'mores by a bonfire is the perfect ending to a Thanksgiving only possible in Florida. Save yourself from the mess and stress that come with cooking thanksgiving dinner by simply ordering it instead–that way you'll have more time to enjoy being buried in sugar-white sand!
5.  Be Extra Thankful!
Thanksgiving is a time to reflect on all that we are thankful for. Here in Florida, we have much to be grateful for: from our beautiful beaches and weather to the helpfulness of locals. Even during tough times like this hurricane season – one of the worst on record – Floridians remain positive and continue supporting each other. One of the best ways we can celebrate Thanksgiving this year is by showing extra appreciation for everything (and everyone) in our lives who help make Florida such a special place.
Let us know in the comments which of the5 WAYS THANKSGIVING IN FLORIDA IS DIFFERENT was your favorite. And if you are considering relocating to Florida – specifically Sarasota- Contact us today! 
Happy Thanksgiving from the Sarasota Neighborhood Experts!