Wondering what are November 2022 Sarasota's Top Things to Do? Well here's all that you need! 
November 5 – 6, 2022: Sarasota Medieval Fair

For some old-time fun check out the 18th annual Sarasota Medieval Fair and its new location: The Woods of Mallaranny! The Woods of Mallaranny offers 47 acres of stunning natural surroundings that will bring the fair to life. There are knights, jesters, minstrels, belly dancers, wenches, and sword swingers! Watch the full contact joust and human combat chess tournaments! Ride rides and play games. Feast on turkey legs and hearty ales from the English pubs.
The Sarasota Medieval Fair brings together local artisans, performers, and vendors, and serves as a fundraiser to multiple non-profit organizations.
Single-day tickets: Adults $22.95 Student/Senior/Military $19.95 Children 5-10 $11.95 and 4 and under free.
Other ticket options and prices are available.
Free parking. 10 a.m. – 5:30 p.m. Also Nov 12-13, Nov 19-20, and Nov 26-27.
The Woods of Mallaranny is located right on SR-70, approximately 13 miles east of I-75 (moments past Lakewood Ranch and across from Dakin Farms). Woods of Mallaranny, 29847 FL-70 E., Myakka City, FL.
November 11, 2022: The Sarasota Annual Veterans Day Parade and Ceremony

This year's parade theme is "Home of the Free because of the Brave." The ceremony will feature as guest speaker Dr. Thomas McElheny, a Sarasota businessman and chairperson of the Sarasota Military Academy Board of Directors. He served seven years as a U.S. Marine. A presentation on the Glenn Miller project will be provided by Dr. James D'Angelo, chairman of the Board of the International Midway Memorial Foundation.
The parade will include the color guards from the Sarasota Police Department, Sarasota County Sheriff's Office, and Sarasota County Fire Department; antique military vehicles; students from Sarasota Military Academy, Booker, Riverview, Sarasota, and Venice high schools, Sarasota Academy of the Arts, Sarasota Jazz Club Band and Lakewood Ranch Wind Ensemble; North Port Young Marines; Boy Scouts of America; Girl Scouts of the USA; and many other veterans groups, community organizations, and local dignitaries.
The parade will begin at 10 a.m. at Osprey Avenue in downtown Sarasota and will move east to west on Main Street, ending at Gulfstream Avenue, Sarasota, FL. The ceremony is to follow at 11:00 a.m. at Chaplain J.D. Hamel Park.

Come out and enjoy the 13th Annual Siesta Key Crystal Classic Master Sand Sculpting Competition. Master Sand Sculptors from across the U.S. will compete for thousands in prize money. Other events connected to the competition will take place, as well: The Learning Curve – sand sculpting lessons and demonstrations are hosted multiple times daily, Fri – Sun; 4 days of live bands, full bar, and no entry fee.
Vendor Village surrounding Sand Village features over 80 retail vendors and 6 food trailers which are all open to the public. Friday: 10 a.m. – 5 p.m., Saturday: 10 a.m. – 9 p.m., Sunday & Monday: 10 a.m. – 5 p.m.
Various online ticket packages including reserved private parking. You can purchase daily admission upon arrival to the event for $10 per day or a 4 day pass for $30.
More options online for advance purchase.
November 13, 2022: Tea with Bertha

Mrs. Bertha Palmer, who the elaborate on-property gardens at Historic Spanish Point are named after, will be sharing tales of her adventurous life in the 1900s this Sunday. Join us for an old-fashioned tea with Mrs. Palmer (actor-portrayed, of course!) and learn all about how she made her mark on the Sarasota history museum.
November 15-18, 2022: Sarasota Chalk Festival

A chalk festival is an annual event that takes place in Venice. Just 25 minutes from downtown, this year's theme is titled "garden of wonders" which has drawn out more than 500 hundred international artists last year.
Other Outings To Consider…
Savor a Seasonal Brew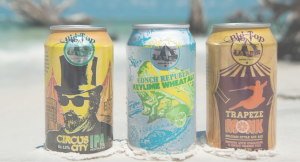 Big Top Brewing, Come to Big Top Brewery in Sarasota for a one-of-a-kind experience. With up to 150 different small-batch brews per year, you're sure to find something new every time you visit. And if that's not enough, they release two brand-new beers every single week! As the weather gets colder, most breweries begin brewing heavier stouts and porters. However, Big Top takes a unique approach by creating their own milkshake IPAs instead. This style uses lactose to give the beer a fuller body and richer flavor that tastes like dessert! While supplies last, come in and try either the Peach Milkshake or Sour Cherry Milkshake IPA today.
Come See Vintage Circus Art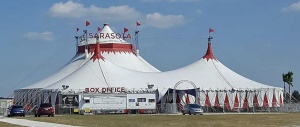 From October to early January, The John and Mable Ringling Museum of Art is displaying a special exhibit called "Tour du Monde" in its Circus Museum. This exhibition features vintage circus posters from the nineteenth century that Western audiences would have been attracted to. These posters are captivating because of their use of color, abstract shapes, and sometimes exaggerated portrayals of foreign people and sensationalist shows.
Sightseeing for Whales
Throughout the month of December, more than 100 right whales (about 25 percent of the world's population) can be seen of the coast of Florida as they head to warmer waters, making it the best time to try to catch a glimpse of these giant, majestic animals. Whale watch tours are available from Island Pearl Excursions, launching into Sarasota Bay from Anna Maria Island (just north of Longboat Key), but you can also see them on a private charter with Key Sailing, a popular sailing charter out of Siesta Key (just south of Lido Key).
Relax in Beautiful, Illuminated Gardens

For the holiday season, Marie Selby Botanical Gardens – a 15-acre botanical garden and living museum on Sarasota Bay – transforms itself for Lights in Bloom. More than one million lights transform the gardens and walkways into sensory light tunnels, filled with flowers, rainforest butterflies, dragonflies, and more. Nightly visits from Santa and his elves, children's arts and crafts activities and games, plus live entertainment, round out the tropical holiday experience.
Let us know what you crossed off your list for November 2022 Sarasota's Top Things to Do. And if we can be of any assistance – contact us today!