If you're looking for some fun fall events to attend in Sarasota, you've come to the right place! We've put together a list of 10 festivals and events that are sure to get you into the autumn spirit. From Oktoberfest celebrations to arts and crafts fairs, there's something for everyone! So mark your calendars and get ready to have some fun.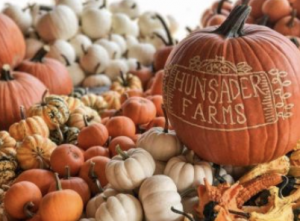 Weekends, October 15-30, 2022 | 9:00am-5:00pm
5500 CR 675, Bradenton, FL, 34211
Admission: $15 | Parking $5, Children 10 and under FREE
The 31st Annual Pumpkin Festival is right around the corner!
Cash Only (Some vendors accept cards)
Every day of the Pumpkin Festival consists of:
Craft Show • Live Music • Live Shows • Pumpkins •
Kid's Pumpkin Games •Pioneer Trades Village • Hayrides • Pony Rides • Corn Maze $2 • Scarecrow Displays • Homemade Ice Cream • Farm Roasted Sweet Corn • Food Galore • Pumpkin Pie • Chainsaw Sculpting • Petting Zoo • Barnyard Playground • Arm Painting • Children's Train Ride $2 • Big Train Ride $3• Juggler • Fresh Produce •Butterfly Experience •
*Our maze and train rides are priced as marked per person.
All other activities are from outside vendors and have their own pricing
Dogs are allowed as long as they are friendly, on a leash, and picked up after
Weekends in October 2022 | Hours: 10am – 5pm
7410 Fruitville Rd, Sarasota, FL, 34240
Admission: FREE | $5 parking
It's that time of the year again! Time for Fall photos, festival foods, and family activities that will make lasting lifetime memories! Fruitville Grove's 34th Annual Pumpkin Festival!! Our Fall Festival is a highly anticipated community event with lots of fun for the whole family! Every weekend in October.
Daily Activities include: Food Truck Rally, Craft Show, Live Music, Kids Fun Zone, Hold a Skunk, Pony Rides, Mini Train Ride, Hay Rides, Hug-A-Goat, Hold a Pig, Wildflower Maze, Petting Zoo, Enchanted Unicorn Encounter, Butterfly Garden Experience, Crafting Activities, and so much more to do throughout the day!
Free Children's Costume Contest every Saturday at 2:00 pm
Torres Family Circus and the Globe of Death with Extreme Riders; free weekend showtimes 12:00 pm & 3:00 pm
The farm market and pumpkin patch are always open during the week from 9:00 am-6:00 pm to pick out a pumpkin, Fall decorations, or grab some farm-fresh produce while snapping your annual family photos in the pumpkin patch. Show your support for local farmers and artisans by stopping by the festival! Bring the whole family to enjoy a beautiful Fall day.
October 22-23, 2022 | Hours: 11am-6pm
The Mall at University Town Center, 140 University Town Center Drive, Sarasota, FL, 34243
Located in Parking Lot 4 (East Grand Entrance) of The Mall at UTC.
Admission: Free
Florida Penguin Productions & The Mall at University Town Center are bringing back our Annual Fall Festival!
The Fall Festival Will Feature:
– Carnival Rides (Dates TBA)
– Pumpkin Patch
– TRUNK OR TREAT (October 23rd, 4pm-6pm)
– Lil Mr & Miss Pumpkin Pageant (more info TBA)
– Pet Costume Contest (more info TBA)
– Community Performances
– 40+ Market Vendors
– Food Trucks & Beer Truck
– Fall themed Photo Stops
– Fall themed Activities
Pet Costume Contest: (TBA)
Lil Miss & Mister Pumpkin Pageant
Contact information for the Pageant Director:
813-755-2234 | [email protected]
Sponsored by MUV Dispensary, Fred Astaire Dance Studio, Art & Soul Dance Company, Florida Blue, Emerald Realty Co, TheCodeSchool of Sarasota, Cat Depot, Water Treatment Technologies, and Cool Today!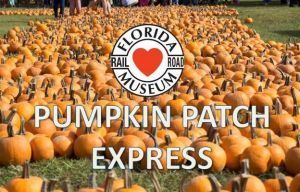 October 22-23 and 29-30, 2022 | 11 am and 2 pm
12210 83rd St E, Parrish, FL, 34219
Admission: $17.25+ TICKETS
Bring A Pumpkin Home
The Pumpkin Patch Express is departing the station for a trip to the Museum's very own pumpkin patch.
Lots of activities are included with your ticket! Hay rides, arts and crafts, Lincoln log building, and games will be available. Children are invited to pick a pumpkin from the patch to take home.
Food and beverages are available for purchase onboard the train and while at the Pumpkin Patch.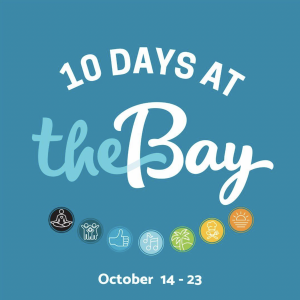 October 14, 2022 to October 23, 2022
The Bay Park
655 North Tamiami Trl, Sarasota, FL 34236
Ten Days. Limitless Experiences.
A bayfront public park designed to be "one park for all," The Bay's 10 Days at The Bay celebration will provide free, exciting, and diverse programming for the entire community to enjoy.
With more than 90 FREE events, there's something for everyone to do, including family fun days, food and cultural festivals, headlining musical acts by We The Kings and Etana, Boo! at The Bay Halloween, Sarasota's first Parktoberfest, and more. Visit here for a full schedule and more information about 10 Days at The Bay.
October 28, 2022 | 6pm – 9pm
8100 Lakewood Main Street, Lakewood Ranch, FL, 34202
Admission: Free
BooFest is officially back on Lakewood Main Street! Join us for family-friendly fun including entertainment, food and drink vendors, and more.
🎃 This event is FREE to the public.
👻 Have your children bring their trick-or-treat bags to collect the many treats that will be given out by our generous sponsors and merchants.
🦇 Don't forget to dress up for our children's costume parade!
🕷 Get ready to get spooky, you're bound to have a HOWLING good time!
October 14, 2022 to October 31, 2022 | Two entry times nightly: 6:30 and 7:45 p.m.
Marie Selby Botanical Gardens Historic Spanish Point
401 N Tamiami Trail, Osprey, FL 34229
Admission: Tickets must be purchased in advance.
$20 for members / $25 for non-members / $15 for children (5–17) / FREE for 4 and under
Join us for the inaugural year of what's sure to become a fall family tradition at Selby Gardens. This new, Halloween-themed light show will transform our Historic Spanish Point campus into "Spooky Point," where visitors will discover fantastic (but not too scary) creations around every turn.
Guests will follow an eerily lit path through the woods, encountering flying "ghost orchids," giant "bat orchids," dangling "spider orchids," vine-twisted skeletons, and other surprises along the way. There also will be plenty of pumpkins and a hay maze to test your wits after a nighttime walk through the woods.
Food and beverages are available for purchase, including fall favorites like candy apples, popcorn, and hot cocoa. Be among the very first to brave a trip to "Spooky Point" this October!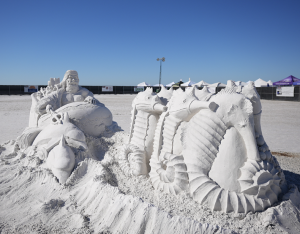 November 11, 2022 to November 14, 2022
The Siesta Key Crystal Classic
Siesta Key Beach 948 Beach Road, Siesta Key, FL 34242
ADMISSION: Tickets and Parking Passes
24 artists converge on Siesta Key to compete in an amazing Master Sand Sculpting competition. The sculptors create a large community carving, 8 solo sculptures, and 8 team sculptures. On Saturday evening, enjoy the sculptures under colored lights after sunset. The timed competition is judged and the winners are revealed on Sunday afternoon. Come and vote for your favorite sculpture until Monday at 5 PM by wooden tokens (available for purchase) so you can help determine the People's Choice award. People's Choice Award will be announced on Tuesday, November 16, online on our website and our Facebook page
There are other attractions at this festival: The Learning Curve – sand sculpting lessons and demonstrations are hosted multiple times daily, Fri – Sun; 4 days of live bands under the huge entertainment tent; Quick Sand – an ongoing contest of speed and skill; plus, the Amateur Competition on Saturday.
Also, the Barefoot Beach Bar Party Tent is open all 4 days with music and a full bar- no entry fee. Vendor Village surrounding Sand Village features over 81 vendors occupying 92 spaces, and 6 food trailers which are all open to the public.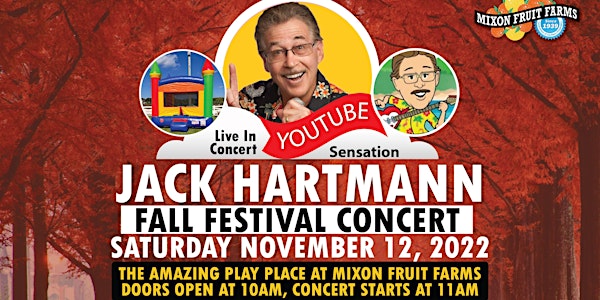 November 12, 2022 | 11am
2525 27th St. E, Bradenton, FL
Admission: $15 Ages 2+ (Under 2 yrs are Free)
YouTube sensation Jack Hartmann is coming back to Mixon Fruit Farms for a Fall Festival Concert! You and your whole family are going to have so much fun, dancing, and singing to Jack's greatest hits! The ticket includes a one-hour live concert with Jack Hartmann and entrance to our amazing play place! (Play place includes: bounce houses, a 20ft slide, lookout tower and slide, tire hill, crafts! and more!) Doors open at 10 am. The concert starts at 11 am.
A few chairs are available on a first come first serve basis. Feel free to bring your own chairs or blankets!
Weekends, Nov. 5 thru Nov. 27, 2022, | 10 am-5:30 pm | Rain or Shine
New Location! Woods of Mallaranny
29847 FL 70 East, Myakka City, Florida 34251
Admission: https://www.sarasotamedievalfair.com/buy-tickets
Welcome one and all to four weekends of exciting tournaments, scrumptious feasts, & pure family fun to the Sarasota Medieval Fair at our much anticipated and beautiful NEW LOCATION, Woods of Mallaranny!
Our 2022 season starts Nov. 5th and runs through the 27th each Saturday and Sunday. Come out and Get Medieval at the Sarasota Medieval Fair!
Visit us every weekend for a full new line-up of different nationally renowned acts! Plus, don't miss our returning favorites such as the Washing Well Wenches, Wheel of Death, and the Human Combat Chess Match, and watch a full-armored full-contact jousting tournament!
Live the majesty and madness of knights, jesters, minstrels, belly dancers, wenches, and sword swingers! Watch the full contact joust and human combat chess tournaments! Ride rides and play games. Feast on turkey legs and hearty ales from the English pubs. Enjoy Celtic music and the new artisan marketplace with over 100 shops, food, and snack booths.
Mark your calendars and stay up to date on our Facebook page as we announce all the exciting news surrounding this year's festival.
Those are just a few of the great fall events happening in Sarasota this year. So get out there and enjoy all that autumn has to offer! And if you need any more ideas for things to do, be sure to check out our blog for more great suggestions.
What are your favorite fall festivals in Sarasota? Let us know in the comments below! And be sure to check out our blog for more great ideas for things to do in Sarasota. Thanks for reading!