Are you considering investing in Sarasota real estate? Don't overlook the unique advantages that summer offers for savvy investors like you. While many might assume winter or spring to be the prime seasons, we'll show you why summer might just be the perfect time to make a smart investment in Sarasota real estate. Join us as we explore the opportunities that await you this season.

Potential Discounts: When the sun shines bright, so do the chances of finding discounted properties in Sarasota. During the summer, some homeowners are motivated to sell quickly due to various reasons, such as relocation or personal circumstances. This creates an excellent opportunity for investors to negotiate favorable deals and potentially secure properties at a lower price. With our expertise, we can help you find the best-discounted properties in town.

Market Trends:
Historically, Sarasota's real estate market shows positive trends during summer. Families with school-aged children often prefer to move during summer vacation, leading to increased demand for homes. While this might create a more competitive market, it also opens the door for higher returns on investment. By staying up-to-date on current market trends and partnering with our knowledgeable real estate agents, you can navigate the summer market with confidence and seize profitable opportunities.

Advantages of Purchasing During the Off-Season:
Purchasing real estate during the off-season, which typically falls in the summer months, comes with its perks. Firstly, there's usually less competition from other buyers, granting you more negotiating power and a better chance of securing your desired property. Additionally, lenders and mortgage brokers may have fewer clients during this time, leading to quicker loan approval processes and potentially lower interest rates. Let us help you make the most of these off-season advantages.

Ideal Weather for Property Evaluation:
Sarasota's summer weather provides the perfect backdrop for evaluating properties. With longer daylight hours and generally pleasant weather conditions, you have ample time to thoroughly inspect potential investment properties. From scrutinizing the property's exterior to assessing the landscaping and outdoor amenities, you can make informed decisions with confidence. Trust us to guide you through this evaluation process seamlessly.

Vacation Rental Opportunities:
As a renowned vacation destination, Sarasota attracts visitors from around the world during the summer. This creates a prime opportunity for investors like you to generate income through vacation rentals. By investing in real estate during the summer, you can take full advantage of the peak tourist season. With our expertise in identifying well-located properties and implementing effective marketing strategies, you can maximize your rental income potential and potentially cover a significant portion of your investment costs.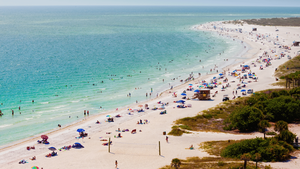 Don't Miss Out! While winter and spring are often associated with real estate investments, we encourage you not to underestimate the advantages that summer can offer in Sarasota. The potential discounts, positive market trends, off-season perks, ideal weather for property evaluation, and vacation rental opportunities make summer an opportune time to invest. To ensure you make a wise investment decision with long-term benefits, conduct thorough research and partner with our knowledgeable real estate agents at Sarasota Neighborhood Experts. Let's make your summer investment a resounding success! Reach out to us today.