If you're moving to Sarasota, or just looking for a great place to take your furry friend for a walk, you'll want to check out our list of dog-friendly beaches near Sarasota. There's one beach in the city limits that welcomes dogs, and four more within a short drive. Each has its own personality, so be sure to read the overviews and reviews before making your decision. And don't forget to pack sunscreen and water bowls!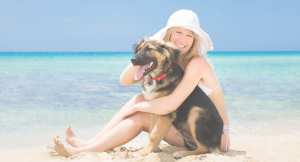 Sarasota Boat Tours | Sarasota, Florida (941) 404-6222
And what could be more fun than spending a day on the water with your best friend? That's why we offer dog-friendly boat tours in Sarasota, Florida!
Looking for a fun and unique way to experience Sarasota, FL with your furry friend? Look no further than Sarasota Boat Tours! Our dog-friendly charters are the perfect way to enjoy the crystal-clear waters surrounding our city. Step aboard the Sylvan Tritoon and get ready for an unforgettable excursion with Fido by your side. Tours vary in length from 2.5 hours to 6 hours, so you can choose the perfect cruise for your needs.
So bring your furry friend and come enjoy a day on the water with Sarasota Boat Tours!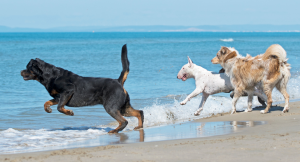 Brohard Paw Park is the only beach area in Venice, FL where dogs and their owners can enjoy some quality time together. This dog-friendly beach offers doggy and human drinking fountains, dog showers, fire hydrants, leash posts, picnic tables, and benches. Please observe the posted signage to make sure your furry friend doesn't go too far off the beaten path.

Ft DeSoto Dog Beach Park | St Petersburg, FL
The Ft DeSoto Dog Beach Park is a beautiful beachfront park that is perfect for you and your furry friend. The park has separate areas for large and small dogs, so everyone can enjoy the sand and surf.
There's also a covered pavilion with picnic tables, a doggy shower, and plenty of parking. So come on down and enjoy a day at the beach with your best friend!

Ft De Soto State Park | Tierra Vierde, Florida
Come to Fort DeSoto State Park with your whole family–furry members included! This dog-friendly beachside state park welcomes visitors of all shapes and sizes to its 1,136 acres of white sand beaches and crystal clear waters. With 15 picnic shelters, restrooms, fishing piers, playgrounds, and designated dog areas (with water stations!), this popular Tierra Verde destination has something for everyone in the family. Although there is a small fee to enter the park, it's well worth it for a day (or days!) of relaxation in paradise.

DeSoto National Memorial Park | Bradenton, Florida
Bring your furry friend to this local Tampa Bay beach for a swim! Dogs are more than welcome as long as they remain on their leash. If you need to rinse off after, take advantage of the outdoor showers close by.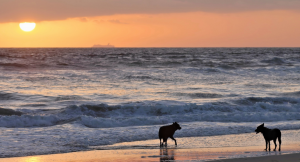 Have you decided which Sarasota beach is right for you and your pup? Moving to the area and looking for more things to do with your furry friend? Look out for our list of dog-friendly parks in Sarasota coming soon!
Happy exploring the dog friendly beaches near Sarasota! Be sure to continue to tune in as I love to share all the latest and greatest information about the entire Sarasota area. If you want even more information, be sure to subscribe to our fun and engaging newsletter where you will get the most up-to-date information, and follow us on your favorite social media platform! You can find us on FB, IG, and  TikTok. Or Contact us with any questions.