Our area is seeing a rapid transformation, from urban condo construction to sprawling new McMansions. 
In the past decade, a large number of vacationers to Sarasota have opted to stay. Consequently, there is an urgent need for housing structures in the area, resulting in numerous construction and development projects taking place. Once a quaint beach town, Sarasota is quickly emerging as an urban center. With the sprawl of new master-planned communities and McMansions, combined with downtown condos popping up all over, this city's landscape is transforming before our eyes. Discover 5 quickly transforming communities. These five destinations boast the most remarkable examples of explosive development and success.
Parrish
Once a rural community, Parrish has transformed into an ideal destination for those seeking convenience. Likewise, Parrish boasts close proximity to some of Florida's most popular cities. St Pete is just 21 miles from your doorstep, Sarasota 26, Bradenton 11, and even Tampa only 34! With this prime location drawing in more people by the day, stores and services are soon following suit.
North River Ranch, is a newly approved master-planned community with 6,500 residences. It offers homes ranging between $300k to $800k that range between 1,500 to 3,500 square feet. Even better? A Publix-anchored shopping center is being added on top of that! People have already started calling it "Lakewood Ranch Jr." due to all its new construction and sprawl. With such great features at an unbeatable price – what's not to love?
Additionally, the Manatee County Board of Commissioners has approved multiple major development initiatives in Parrish, paving the way for a six-story hospital construction. Furthermore, Creekside Commons is slated to be built near U.S 301 and Erie Road featuring well-known retailers such as Aldi, HomeGoods, and Lowe's.
A bustling new shopping center, a State College of Florida campus, and an additional middle school are all coming to the southwest corner of Fort Hamer Road and U.S. 301 in Parrish. In order to accommodate the extra traffic this development will bring, major road widening projects have been put into effect as well. Acclaimed builders such as Neal Communities have invested in making North River Ranch a reality – bringing 23,000+ homes with them! Despite having more housing than ever before however, it is not quite as affordable or roomy compared to how it used to be previously.
Bayfront
The stunning views of the waterfront are quickly vanishing due to new high structures cropping up. These buildings can be as tall as 18 stories, and many luxurious condos such as One Park, Bayso, and The Ritz-Carlton Residences have been erected from glass and concrete.
Before the surge of luxurious bayfront condominiums, the area which once encompassed The Quay was left unconsciously abandoned due to the fallouts from The Great Recession. Now, Quay Sarasota is steadily coming to life. Nestled upon a vast waterfront property – Sarasota's downtown area is something few cities can rival. Quay Sarasota's 14 acres of paradise will eventually offer its residents and visitors 695 residences, 175 hotel rooms, state-of-the-art office spaces, a variety of shopping experiences, delicious dining options, an exclusive yacht basin to explore the waters around it, a breathtaking park for leisurely strolls and waterfront walkway showcasing spectacular sights. This property is positioned adjacent to The Bay, a 53-acre urban park and cultural hub funded by the city.
Although the majority of us don't have a million dollars to buy a condo, we will soon be able to enjoy shopping and dining in certain areas of the building. Despite its hustle and bustle, this area remains rich with history – the now-unoccupied Belle Haven Apartments of Mediterranean Revival design. Built nearly a century ago, it was an iconic representation of luxury living in the 1920s yet luckily – thanks to historic designation protections – has been kept safe from destruction among all these modern skyscrapers. Looking for something special? It's on sale right now at $12.5 million!
Lakewood Ranch
In 1995, Lakewood Ranch was just cow pastures. People living close by wondered why anyone would want to live so far away. Today, it is a big city with 33,000 acres and lots of people! It has proved the early skeptics wrong.
Lakewood Ranch is one of the most popular communities in the United States. It is still growing with more "villages" being built. People come from all over to live there due to its good location and a great lifestyle.
Today, Lakewood Ranch consists of 30+ distinct residential "villages" that are home to nearly 60,000 residents. From golf-course-view executive mansions to apartments, this community offers something for everyone. From mom-and-pop pizzerias to major corporate headquarters, Lakewood Ranch is home to more than 500 active businesses. Not only that but educational institutions such as LECOM – one of the country's most renowned schools for dentistry – and medical facilities provide something for everyone.
When it comes to recreational amenities, you won't be disappointed either; with 11 community parks and 150 miles of trails throughout town, there's plenty to explore! Single-family homes in this dynamic town range from $350K-$4M plus customization options – making it a great place for any budget!
Despite some existing Sarasota County residents' hesitancy, the county has given approval for a proposed 5,000-home development on 4,120 acres known as Lakewood Ranch Southeast. It appears that despite resistance from certain members of the community, this project can't be avoided due to popular demand for desirable housing in such scenic surroundings.
Wellen Park 
Three years ago, the area called West Villages was mostly in North Port and a little bit in Venice. Now it is known as Wellen Park. There are two more parts of Wellen Park – Playmore and Downtown Wellen. Playmore includes CoolToday Park, where the Atlanta Braves have their spring training games. Downtown Wellen is an area with stores and fun things to do nearby.
At completion, Wellen Park will boast a beautiful 80-acre lake with plenty of opportunities for shopping and dining by the shore. Pathways make it easy to stroll around, while young ones can explore the playground or cool off in the splash pad. Additionally, there is an inviting public town hall ideal for events. And a hammock grove ideal for curling up with your favorite book. Plus, food trucks are welcome too!
Boasting 11 beautiful communities, this remarkable community has much more in store as construction continues. Spread across a sprawling landscape of 11,000 acres – 7,000 of which is untouched – the development will eventually be home to 22,000 households and 60,000 residents! Although not quite as affordable as it used to be compared to its nearby counterpart Lakewood Ranch, you can still acquire a single-family house for under $400k or a condo for around $200K.
Wellen Park is a remarkable city that rivals Lakewood Ranch in popularity. It offers prestigious schools, proximity to the beach, and affordability that make it attractive for young families as well as empty nesters. Imagine being able to take a leisurely stroll downtown or spend cozy afternoons at the beach within 15-25 minutes! New construction homes with all these amenities are very rare near the coast – making Wellen Park one of Florida's most sought-after places to live!
Siesta Key
Siesta Beach is the most popular beach in Sarasota. It has been named the best beach in America by TripAdvisor and Dr. Beach (Stephen Leatherman). People love its soft white sand, and weekly Sunday drum circle, and it was even featured on a show on MTV called Siesta Key! A lot of people want to visit this special place.
Siesta Key has been a special place for many years. It doesn't have big buildings like some other places in Florida. People who live there want to keep it that way. They are working to keep Siesta Key as it is.
The voices of Siesta residents in support of forming their own city government have been heard! After a successful public hearing, the majority of state legislators agreed and will be introducing a bill to incorporate. If both Gov. Ron DeSantis approves as well as the Florida Legislature passes this new incorporation bill, then come November there will be an opportunity for citizens to cast ballots on this major decision in a special election.
The Sarasota County Commission voted to construct numerous hotels on Siesta Island. This infuriated some locals as it threatened to disrupt the area's tranquility. Both residents and travelers frequent Siesta Village, so naturally, people were outraged over this decision. Some even filed a lawsuit against the county for failing to adhere to its own regulations.
Should Siesta gain its autonomy, it would bring a generous property tax dowry with it. The area's housing values continue to rise and break records; an upcoming home complete with architectural renderings will be priced at an astonishing $32.5 million – the most expensive in the county!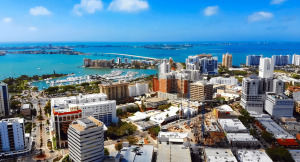 To sum up, Sarasota is rapidly transforming into an alluring destination for vacationers and locals alike. With construction projects ongoing on almost every corner, there is no shortage of amazing new communities emerging here. The development that is taking place in Parrish, the Bayfront, Lakewood Ranch, Wellen Park, and Siesta Key is absolutely breathtaking. We cannot recommend enough exploring this side of the Sunshine State – each area has something unique to offer and you will be sure to find your perfect spot to vacation or plant some roots.
And at Sarasota Neighborhood Experts, our team is always excited to help potential buyers find their perfect property! Don't hesitate to give us a call if you have any questions. We're more than happy to give you an inside look into Sarasota's real estate market.